Appeals court reinstates Viacom lawsuit against Google's YouTube
The court ruling Thursday allows Viacom and other entities to sue Google over the use of copyrighted video on the internet search engine's YouTube video platform.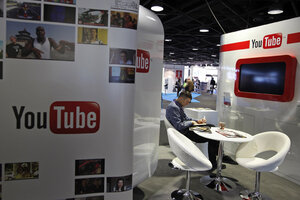 Eric Gaillard/REUTERS/File
A U.S. appeals court dealt Google Inc a major defeat by reviving lawsuits by Viacom Inc , the English Premier League and various other media companies over the use of copyrighted videos on Google's YouTube service without permission.
The 2nd U.S. Circuit Court of Appeals on Thursday reversed a June 2010 lower court ruling in favor of YouTube, which had been considered a landmark in setting guidelines for websites to use content uploaded by users.
"It's hard to characterize this as anything other than a loss for Google, and potentially a significant one," said Eric Goldman, director of the High Tech Law Institute at Santa Clara University School of Law. "It has given new life to a case that Google thought was dead."
The $1 billion lawsuit filed by Viacom in 2007 to stop the posting of clips from "The Daily Show with Jon Stewart," "South Park," "SpongeBob SquarePants" and other programs addressed a crucial issue for media companies: how to win Internet viewers without ceding control of TV shows, movies and music.
---