Verizon's Share Everything plans: Will a new plan cost you more?
Would one of Verizon's new Share Everything plans cost you more or less than your current plan? Read on to find out.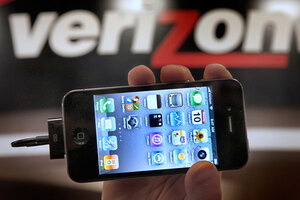 Amy Sancetta/AP/File
This week, Verizon announced the launch of its long-awaited shared data plan. Dubbed "Share Everything," the new plan allows you to purchase data in chunks of 1 to 10GB and share it among all your family's devices, from smart phones to tablets or even netbooks. In a world where carriers have traditionally charged separate data fees for each device you own, the new pricing structure sounds like a breath of fresh air. However, if you do the math, you might end up spending more money than what you're paying for Verizon's current lineup of voice and data options.
Fortunately, current Verizon customers will not have to give up their existing plans, even when they upgrade their phones and renew their contracts. The one exception is that users who have been grandfathered into unlimited data plans will have to switch to limited data if they want to upgrade their phones at subsidized prices. New Verizon customers who sign up after June 27 will only be eligible for Share Everything. If you were planning to sign up as a new Verizon customer and don't like these plans, now's the time to act.
So, current and future Verizon subscribers, are the new Share Everything plans a good deal for you? It really depends on how much you talk and text and how many devices you have.
Plan Details
Adding up the cost of the Share Everything plan is so simple even a third-grader can do it. You simply pay a device fee for each device you use and a data fee for your shared pool of data. The device fee is $40 per smart phone, $20 per notebook or 4G modem and $10 per tablet.
---