Windows Phone 8: Should a phone act more like a PC?
Microsoft rolled out Windows Phone 8, an operating system that resembles Windows 8 for PCs. While the software is not identical across devices, programmers will have an easier time moving applications from one to another.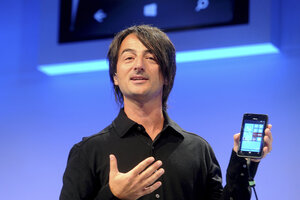 Noah Berger/REUTERS
Struggling to keep pace with Apple and Google, Microsoft on Wednesday unveiled a new version of its mobile phone operating system in hopes of attracting more attention from consumers and developers.
Unlike Windows Phone 7, the upcoming Windows Phone 8 will share its foundation with the company's new Windows 8 software that will run on PCs and tablets. That will allow software developers to more easily design applications that can run on multiple devices. It should also allow programmers to create much more sophisticated games for Windows Phone devices.
The updated software will also add a wide range of new features, such as support for multi-core processors, near-field communication radios and high-resolution screens. It also will include a new mobile "wallet" application that will let device owners pay for items with their phones and use them to access coupons and store loyalty cards.
"This is a huge release," said Joe Belfiore, a corporate vice president at Microsoft who oversees its Windows Phone efforts.
But the release also represents an effort by Microsoft to catch up with the competition. Many of the new features in Windows Phone 8 are ones already present in Google's Android and Apple's iOS software.
Microsoft hopes to jump-start interest in its mobile software. Since the company launched Windows Phone 7 in the fall of 2010, it's already initiated a media blitz, released a medium-sized update and convinced mobile phone giant Nokia to focus its smartphone efforts on the software.
---