New Microsoft Office designed for fingers, styluses, keyboards, and mice
Microsoft preps for "the most ambitious release of Office we've ever done," says CEO. But will it be a jack-of-all-trades, master of none?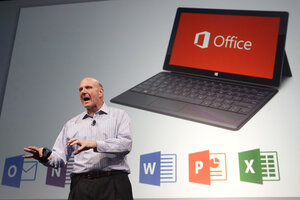 Jeff Chiu/AP
Microsoft on Monday unveiled a new version of its Office software suite designed with its upcoming Windows 8 operating system in mind.
The updated Office applications have been rejiggered to work more easily with touch-screen devices. One of the prime features of Windows 8 is its Metro interface, which was designed for smartphones and tablets.
"This is the most ambitious release of Office we've ever done," CEO Steve Ballmer announced at a news event here.
The new version of Office is designed to be extraordinarily flexible, Ballmer said. Users will be able to run it on touch-screen tablets and PCs. They will be able to interact with it using their fingers, styluses, keyboards or mice. And they can purchase it as packaged software or subscribe to it as a service.
Microsoft has only overhauled two of the applications — the OneNote note-taking program and the Lync collaboration software — so that they will work under the Metro interface. All the other applications can be used only in Windows' traditional desktop interface.
But the company has added features to all of the Office applications. Word, for example, will get a new "reading" mode that mimics an e-reader. Users will be able to turn pages and add notes to documents much like they would using Amazon's Kindle app.
Excel's upgrade will allow users to see a quick preview of charts and tables without having to go through the steps of creating each one first.
The entire suite of Office software is designed to embrace some of the latest technology trends. By default, the new Office will save users' documents and settings on Microsoft's servers. That will allow users to access all their documents and settings regardless of what Office compatible device they are using, from a Windows PC to a Windows phone.
---