EU pulls Microsoft into latest antitrust investigation
Has Microsoft kept its promises from 2009? An EU antitrust committee will decide that soon. Already, Microsoft has conceded that it has "fallen short" in some areas.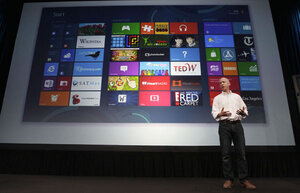 Jeff Chiu/AP
The EU's executive body, the European Commission, announced Tuesday that it was opening an investigation into whether Microsoft has kept the antitrust commitments it made in 2009, and warned that penalties for non-compliance would be "severe."
Microsoft conceded it had "fallen short" of its obligation to provide the "browser choice screen," or BCS. The choice screen would allow users of Microsoft's Windows operating systems to select a browser other than Microsoft's Internet Explorer.
"Due to a technical error, we missed delivering the BCS software to PCs that came with the service pack 1 update to Windows 7," Microsoft said in a statement.
The company said that PCs running the original version of Windows 7, as well as Windows XP and Windows Vista, did have the screen.
"While we have taken immediate steps to remedy this problem, we deeply regret that this error occurred and we apologize for it," Microsoft said.
---