How financially tied are Zynga and Facebook?
After Zynga's big loss on Wednesday, investors worry about Facebook's earnings report on Thursday.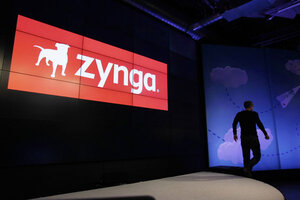 Paul Sakuma/AP/File
Zynga Inc. lost money and received less revenue than anticipated in the second quarter because "CityVille," ''FarmVille" and other games are not attracting as many paying players as they should.
Its stock tanked in after-hours trading and dragged Facebook's shares as well because the social networking icon relies on Zynga for a good chunk of its revenue — 12 percent last year. The news comes just as Facebook prepares to report quarterly earnings on Thursday, its first as a public company.
Though Zynga's revenue grew, Wall Street wanted more. The number of players increased, but only because it got more players from its acquisition of OMGPop, the maker of the mobile game "Draw Something." Expenses grew, too.
Faced with a dismal quarter, Zynga lowered its outlook for the year on Wednesday, citing game delays, reduced expectations for "Draw Something" and what it called a "more challenging environment on the Facebook Web platform."
In short, not all is well in Zyngaville.
"The largest reason for us decreasing our guidance has to do with the performance of our existing games," Chief Financial Officer David Wehner said in a conference call with analysts.
---