Review: Siri versus Google Voice Search versus S Voice
Will Apple's Siri triumph over its Android counterparts, despite being the oldest of the three virtual assistants?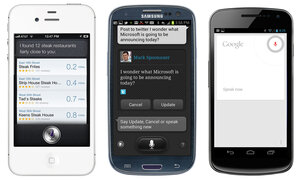 LAPTOP Magazine
In case you've been living under a rock, you're probably well aware that voice-activated assistants are all the rage. Apple's Siri, which first appeared on the iPhone 4S, is obviously the best known of these services, but other companies are beginning to catch on. Just recently, Google unveiled its new Google Voice Search app for Android 4.1 Jelly Bean, while Samsung made considerable waves with the debut of its S Voice for the Galaxy S III.
Naturally, we decided to see which of these three assistants offers the best mix of features, speed and accuracy. So we asked each one the same 10 questions while connected to the same wireless network to determine which one is best. Who took the crown?
Question 1: "Where can I see the movie, 'The Amazing Spider-man?'"
Siri completed in: 2.9 seconds
Siri offered us a list of 22 movie theaters in relatively close proximity to our midtown Manhattan offices. For each theater, we were given an address, the total distance in miles from our office, as well as starred reviews.
S Voice completed in: 6.6 seconds
---