Unlimited data plans are back. But are they needed?
Unlimited data plans aren't necessary for most smartphone users, because they don't hit the 2GB per month data cap, according to a study by NPD Connected Intelligence. So will new unlimited data plans from several carriers cause a splash?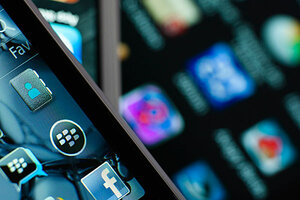 REUTERS/Valentin Flauraud
T-Mobile (and Sprint, and MetroPCS) made a stir by announcing new, unlimited individual data plans priced from $70 to $90 per month, including unlimited calling and texting.
That sounds wonderful, but for most people in the U.S., it's also irrelevant.
That's what data on smartphone usage by research firm NPD Connected Intelligence indicates. The company has installed an app on 1,000 Android smartphones of volunteers to track how much data people consume each month. Though iPhones aren't included, analyst Eddie Hold told TechNewsDaily that iPhone usage is pretty similar and that they will begin collecting information from iPhones in the next few months.
RECOMMENDED: 20 iPhone tips and tricks everyone should know
[SEE ALSO: First-Time Smartphone Buyers Prefer Android to iPhone]
TechNewsDaily was the first to see NPD's latest data for July. And the numbers make it hard to see why most people should fret about data caps. The overwhelming majority of customers on AT&T, Sprint, T-Mobile and Verizon don't even use 2GB per month, which is below the data caps for all but the stingiest plans from all carriers for the common two-year contracts. And virtually no one uses over 3GB. (Sprint is the one carrier that has already been offering unlimited data plans.)
---