Facebook: 1 billion monthly users and counting
Facebook reached a major milestone: 1 billion active members. Some 600 million of them access the social network through phones and tablets.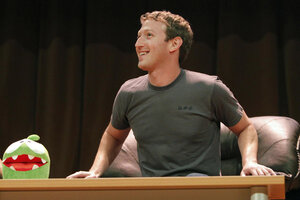 Maxim Shemetov/Reuters
Social media company Facebook Inc said on Thursday it reached the 1 billion active monthly users threshold last month, and is up by 45 million users since June.
Facebook has faced a rough debut since its May initial public offering. Investors and analysts have fretted about a sharp slowdown in its revenue growth. Shares of Facebook remain well below the $38 debut price.
Facebook, based in Menlo Park, Calif., hit the 1 billion milestone on Sept. 14 at 12:45 p.m. Pacific time, the company said on its website. It added that it had 600 million mobile users, according to a fact sheet posted on its website.
In an interview on NBC's "Today" show broadcast on Thursday, Chief Executive Mark Zuckerberg was asked by co-anchor Matt Lauer about how, with 1 billion users, the company wasn't "killing it," making money.
"I think it depends on your definition of 'killing it.' I mean we are making billions of dollars," Zuckerberg said. Facebook reported that revenue increased by 32 percent to $1.18 billion in the second quarter.
---