Can the iPad Mini compete with Amazon and Google tablets? (+video)
At $329, the new iPad Mini could lure buyers away from the regular iPad, which starts at $499, while still being too expensive to compete with Amazon's Kindle Fire Google's Nexus 7.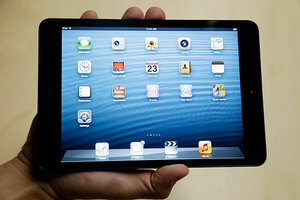 Marcio Jose Sanchez/AP
Apple Inc took the wraps off an 8-inch tablet on Tuesday in its biggest product move since the debut of the iPad two years ago, launching a smaller version of the gadget into a market staked out by Amazon.com Inc and Google Inc.
The 7.9 inch "iPad mini" marks Apple's first foray into the smaller-tablet segment. Apple hopes to beat back a charge onto its home turf of consumer electronics hardware, while safeguarding its lead in a larger tablet space that even deep-pocketed rivals like Samsung Electronics have found tough to penetrate.
But at $329, the iPad mini costs more than some analysts had expected. Wall Street fears the gadget will lure buyers away from the $499, flagship 10-inch iPad, while proving ineffective in countering the threat of Amazon's $199 Kindle Fire and Google's Nexus 7, which have wafer-thin margins or no margins.
"It's coming in the range that most were grumbling about and that, quite frankly, we're a little bit concerned about," said JMP Securities analyst Alex Gauna. "It's a little confusing at this juncture to try and figure out how it fits into the line-up. Is it going to cannibalize the more expensive iPad?"
"It is worth noting that there are zero-margin products out there competing with them now..., and that is presenting some challenges to Apple, which at least at this juncture, Wall Street has some concerns about."
Wall Street analysts have said for months Apple was planning a less expensive version of the iPad to take on cheaper rival devices, a move they say might hurt its margins but prevent its rivals from dominating an increasingly important segment.
The stock was down 2.5 percent at $618.42 in afternoon trade, after gaining 4 percent on Monday in the run-up to the event.
---