Halo 4, Black Ops II top holiday video game lists
Halo 4 ranks high on holiday wish lists, squeaking by Call of Duty: Black Ops II.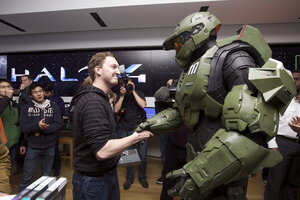 Stephen Brasher/Invision for Xbox/AP
No holiday season would be complete — at least for gamers — without the latest titles. Nielsen released its list of most-anticipated games for Xbox 360, PS3 and Wii. The list shows that Xbox and PS3 gamers have nearly identical tastes in games — first-person shooters rule — while Wii players are all about family fun.
Nielsen surveyed more than 4,800 gamers — men, women and kids, ranging in age from 7 to 54. All had a current-model console and identified themselves as regular gamers.
Topping the list for Xbox 360 is "Halo 4" (exclusive to Xbox and the first of a new trilogy), while "Call of Duty Black Ops II" is just a fraction of a point behind, according to Nielsen's scale. They are followed by "Assassin's Creed III" and "Resident Evil 6."
The PS3 line-up matches up pretty well with Xbox 360: "Black Ops II," "Assassin's Creed" and "Resident Evil " secure the top three spots.
---