RoboTheater: Japanese robot actors take the stage
Robots perform with human actors as part of Osaka University's Japanese Robot Theater Project. The theater group is presenting its original production on a tour of North America.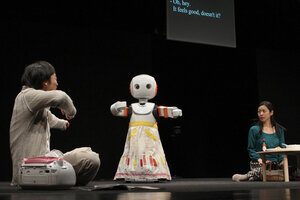 Julie Lemberger/TechNewsDaily
A dying girl pressed a humanoid robot's hand to her face as the robot began reciting poetry.
This scene was acted out by a human actress and an android during a North American tour of the Japanese Robot Theater Project.
The robot theater based at Osaka University first came to life four years ago when a playwright teamed up with a robotics researcher at Osaka University in Japan. They created stories in which robots are personal companions and household servants. Stories like "Sayonara" and "I, Worker" became part of the double-bill stage production presented at the Japan Society in New York from Feb. 7 p.m. to 9 p.m.
"One of the most common questions we get is whether the robots think," said Oriza Hirata, playwright and director of the Seinendan Theater Company in Tokyo, showing flashes of humor through a translator. "They don't think. Neither do the actors."
The robots included a "Gemnoid F" android that looks like a lifelike Japanese woman, as well as two "Robovie R3" models that looked more like oversized robot toys. The machines performed their prerecorded scripts alongside human actors from the Seinendan Theater Company.
Robot-centric productions
"Sayonara" featured the Gemnoid F android acting as a poetry-reciting companion to a blonde girl suffering from a terminal condition. The android's humanlike appearance included blinking eyes, mouth movements and several facial expressions.
---