Samsung Galaxy S4: When is it too much?
The Samsung Galaxy S4, the followup to the most successful phone in the world, is now in stores. Chock full of new features, applications, and widgets, did Samsung over-do it?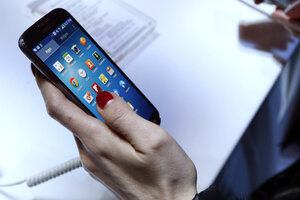 Jason DeCrow/AP Photo
I've seen Android phones get better and more powerful over the years, as Google and phone manufacturers pack devices with more and more features. There comes a time, though, when less is more. I'm afraid we've reached that time.
Samsung's new Galaxy S4 smartphone is an excellent device from a hardware standpoint. Measuring 5 inches diagonally, the screen is slightly larger than that on its predecessor, the Galaxy S III. Yet the S4 is a tad lighter and smaller overall. The S4's display is also much sharper, at 441 pixels per inch compared with 272 on the S III. The S4 has one of the sharpest screens out there.
The Android operating system it runs is excellent, too, and in recent years the Google-made system has become a healthy competitor to Apple's iOS system for iPhones. Like most Android phones, the S4 comes with a suite of useful Google apps, including Gmail, YouTube, Google Maps and the voice assistant Google Now. Because Google lets device makers customize Android to suit their needs, Samsung and others have been adding their own distinguishing features.
And that's the source of the problem. Packed with bags of tricks, phones have become way too complicated for many people to use. In some cases it's because these custom features work only some of the time. In other cases, you're confronted with too many ways to do similar things.
---