Opera sees an alternative role in Facebook's Internet initiative
The alternative Web browser, Opera, expects that its Web browser will play a large role in the Facebook-led Internet.org initiative to increase Internet coverage around the globe.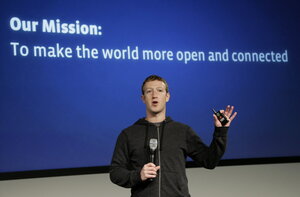 Jeff Chiu/ AP Photo/ File
Norwegian Internet browser maker Opera Software expects its data-light mobile phone browser will play a central role in a Facebook-led project aimed at bringing Internet access to third-world consumers, Opera's CEO told Reuters.
The project, called Internet.org, was launched last week by Facebook Chief Executive Mark Zuckerberg, who says he wants to make Internet access affordable for the 5 billion people around the world who are not online.
Opera CEO Lars Boilesen said that in emerging markets, some 40 percent of Facebook traffic is already going through Opera.
"We see that Facebook is the most popular application in Opera. A big part of Facebook's mobile traffic globally is already coming through Opera browsers," Boilesen told Reuters.
Zuckerberg has said the project was not just about making money for Facebook, but the project has been widely criticized as a ploy to increase Facebook membership and profits.
Companies like Samsung Electronics, Qualcomm, MediaTek and Nokia are also involved in the project.
Boilesen said that even though Opera does not expect short-term gain from the project, he hopes it will help boost Opera's user numbers.
"Since we started this company, our goal has been to get as many people as possible to use our software. We just have to figure out a way to make money out of it later," he said.
---