A new step toward synthetic life
A genome firm says it changed one bacterium species into another by transferring DNA 'software.'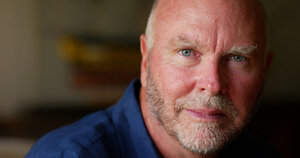 AP/FILE
Scientists have long considered DNA the instruction manual for biological life. Each species has its own unique set of instructions, or genes. And for just as long, scientists have wondered if by swapping these instruction manuals, they could transform one organism into another.
Now, in a key experiment for the nascent field of designing life from scratch, scientists at the J. Craig Venter Institute in Rockville, Md., have done just that. They have successfully transplanted the entire genome of one bacterium species into another, changing the recipient into an organism that looks, feels, and for all intents and purposes is, the donor.
"This is equivalent to changing a Macintosh computer to a PC by inserting a new piece of software," says J. Craig Venter in a teleconference. "Synthetic biology still remains to be proven, but now we are much closer to knowing it's absolutely theoretically possible."
The young field of synthetic biology rests on the premise that scientists can design life from the ground up, that they can choose the traits that determine what the organism eats, where it thrives, and how fast it reproduces.
Organisms engineered entirely by human hand could have wide-ranging applications. They might be engineered to create cheap biofuels from a great variety of crops and biomass, including woody material that today is too expensive to convert profitably. They might clean up chemical spills, oil spills, and other man-made environmental disasters.
But the question has always lingered: Does DNA alone define an organism or do other elements factor in? The study, published Thursday in the online version of the journal Science, appears to answer that question, at least for simple bacteria known as mycoplasma.
---