US Air Force uses new guided bomb in Iraq
The GBU-54 – used for the first time in Iraq on Aug. 12 – will help US forces hit moving targets and minimize civilian casualties, say military officials.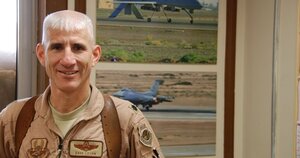 Tom A. Peter
Retreating insurgents will have a harder time escaping US forces in Iraq and Afghanistan now that the United States Air Force has begun using the next generation of guided bombs designed specifically to destroy moving targets. While guided munitions have been key to air operations for years, most were developed to hit stationary targets.
On Wednesday, Air Force officials announced that F-16s had dropped the guided bomb unit-54 (GBU-54) in combat for the first time, destroying a moving insurgent truck in Iraq's Diyala Province on Aug. 12.
Designed largely to meet the battlefield needs of commanders in Iraq and Afghanistan, the new bomb shows how the Air Force has begun adapting its arsenal to conduct counterinsurgency missions where accuracy is critical.
"In COIN [counterinsurgency operations] we've got to be more precise," says Brig. Gen. Brian Bishop, 332nd Air Expeditionary Wing commander stationed in Balad, Iraq. "Hitting moving targets has always been very, very difficult, and I would say that it's not until recent years that we've been able to truly have technology that allows us to do that with a pretty good degree of certainty."
---