For Olympic Games, London dreams of a Cloud castle
The Cloud, an ambitious structure planned for 2012 Olympics, has airy spheres, spiral walkways, data projection.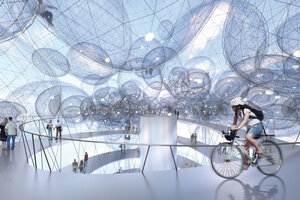 Courtesy of The Cloud Project
A group of architects, artists, and other big thinkers are certain that they don't have their heads in a cloud as they plan what could be the most startling structure to emerge from the London Olympic Games of 2012.
Called simply "the Cloud," the monument would consist of two slender towers rising hundreds of feet into the air. Atop the twin spires float digital displays and viewing platforms for the public, who would climb up by foot or bicycle using spiral ramps wrapped around one of the towers. The summit would also feature giant inflated plastic spheres, some of which visitors could enter. Real-time information about the Games and the surroundings would be displayed by Google.
In an emerging century with more and more online experience, the Cloud aims to form a connection from the virtual world to the real world, "from the world of bits to the physical world, the world of atoms," says Carlo Ratti, head of the SENSEable Cities Laboratory at the Massachusetts Institute of Technology in Cambridge, Mass., and a member of the international team working on the project. Other players include Arup, the architectural firm that designed the Sydney Opera House. Umberto Eco, the Italian philosopher and popular novelist, is serving as an adviser.
---