Lytro cameras: Focus pictures after you take them
Lytro introduces a new 'light field' camera that may change the face of photography.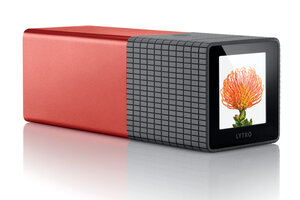 Lytro
For more than a century, photography has required three steps: Point. Focus. Shoot.
But a new camera debuting early next year could rewrite that order: Point. Shoot. Focus.
Silicon Valley start-up Lytro has introduced the first commercially available "light field" camera, a technology that allows people to focus images after the picture has been taken.
Instead of dealing in megapixels, Lytro measures its cameras in megarays, or how many rays of light it captures with each snapshot. By pulling in information from the entire scene – including the intensity and angle of up to 11 million rays of light – Lytro cameras can focus on any object within the frame seconds or days after the shutter snapped.
"It represents a really big shift in cameras – in capturing an entirely new kind of data," says Ren Ng, Lytro's founder and chief executive.
The camera resembles a stick of butter, but with a lens on one end and a viewfinder on the other. After clicking the shutter button, photographers can play with the focus right on the camera or move the files over to a computer for more careful tweaking.
But Lytro believes that finding the perfect focus shouldn't be a single-player game. Lytro images can be shared across Facebook, personal websites, and mobile phones – with all the focusing tools built into each photo. Viewers may click through the scene, sharpening or revealing objects once hidden in the blurry background. The photos become interactive.
For example, one Lytro photo begins as a crisply focused shot of an etched window. But clicking on the panes of glass reveals the city scene outside. Pedestrians, cars, and streetlights, once obscured by the tight focus, now come into view. (You can find this and other examples at Lytro.com.)
Richard Koci Hernandez, who took that city picture and is a professor of new media at the University of California, Berkeley, admits that the concept of light-field photography took some time to set in.
---