Ultrabooks learn to twist, twirl, tilt – and compete
New Ultrabook convertibles take many forms, as manufactures try to figure out what people want.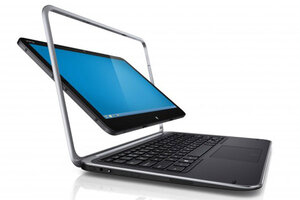 Dell
Laptops have functioned like, well, laptops for so long that it's a little bit of a shock when you find one with a trick up its sleeve.
You touch the screen, and it responds like a tablet. Maybe you open the laptop's lid, and it keeps on opening -- all the way around, until it's lying flat against the underside of the computer. Or maybe you slide the keyboard out from under the screen when you need it, and return to touch input when you're just browsing online.
These are the kinds of features found in a nifty new class of computers called Ultrabook convertibles. You might remember the Ultrabook – the line launched last year as a collection of thin-and-light laptops powered by Intel Core chips. At the time, it might have been considered the PC world's response to the Macbook Air.
Now, as manufacturers have had more time to consider how to make laptops truly portable, they've come up with a range of designs that are actually unique. With so many swivelling, spinning screens, you might mistake the PC section of a Best Buy for a circus.
The Lenovo Ideapad Yoga, for example, has a hinge that allows the screen to fold around so it lies flat on the back of the keyboard. Turn the machine over (the keyboard turns off automatically) and you've got a tablet, albeit one with a big 13-inch display. The Dell XPS Duo 12 (pictured, above) has a touchscreen that turns vertically within its bezel – so you can flip the screen up to use it as a tablet while it's resting on the keyboard deck. The ASUS Taichi has two screens, one on each side of the lid, and you can flip between them with a touch. All of the Ultrabook convertibles run Windows 8, which is designed to work on computers and tablets alike, and – blessedly – all have a full range of useful ports, including USB and HDMI.
---