PayPal plans for interplanetary banking system
PayPal and the Search for Extraterrestrial Intelligence Institute (SETI) announced plans for an interplanetary banking system.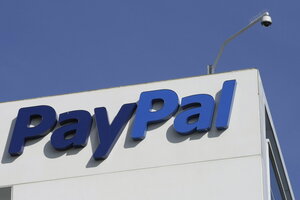 AP Photo/Paul Sakuma
When you jet off to a foreign country, travel guides advise having a plan to get the local currency. So it makes sense that blasting off to space would also require some sort of banking system to make sure the intergalactic traveler will have access to a steady flow of funds – or at least that's what PayPal says.
The company announced the launch of its "interplanetary payment system" on Wednesday, which will use the current PayPal technology to keep future waves of space travelers attached to a money supply.
PayPal is collaborating with the Search for Extraterrestrial Intelligence Institute (SETI) to tackle some of the big questions looming over commercial space travel: What will the standard currency look like in an interplanetary society? And how will current banking systems adapt to meet that need?
PayPal president David Marcus admits that we might not need answers to these questions in the next year, but someone has to be the first into the cash-less space frontier.
"PayPall has already pushed payments into the Internet, onto our phones and across terrestrial borders. We look forward to pushing payments from our world to the next, and beyond," Mr. Marcus wrote in an announcement.
The eBay-owned company has been one of the main companies that allows individuals and businesses to securely send and receive payments online since the early 2000s. PayPal reports that is has 128 million users worldwide.
---