Apple files for iWatch trademark in Japan
Apple filed for a trademark for "iWatch" in Japan – signaling that the iWatch could be released by the end of 2014.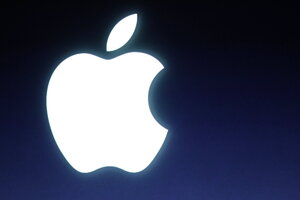 AP Photo/Paul Sakuma
If the rumors are true, Apple's long-anticipated "smart" watch may be drawing near, and it will look something like this: a sleek, thin band wrapped around your wrist with a bendable computer screen that vibrates gently to alert you to new messages or calls.
Apple took a concrete step toward making that fantasy a reality on June 3, when it filed for a trademark for "iWatch" in Japan. The Japan Patent Office released information about the application on the office's website on June 27, according to a Reuters report. The trademark would cover computers, computer accessories, and wristwatches.
Apple has also filed for a trademark in Russia, according to the Russian newspaper Izvestia. No trademark applications have been reported in Europe.
Typically, trademark applications preempt the release of a new product, and according to Apple-watchers, the iWatch should come out in late 2014.
KGI Securities analyst Ming-Chi Kuo has a proven track record of predicting Apple launch dates. He says that Apple's March filings for patents relating to curved screens and batteries indicate that the company is working on a new, wearable product. In an Apple Insider report, Mr. Kuo predicts that watch will come with a biometric function, which will recognize its user.
---