Elon Musk is now the proud owner of James Bond's submarine car
Musk says he will install a Tesla drivetrain in the sub car, and 'try to make it transform for real.'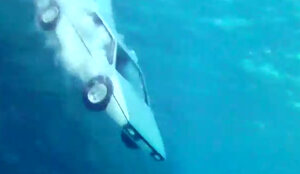 YouTube
In the 1977 flick "The Spy Who Loved Me," James Bond takes a comely young KGB agent on a spin in a sporty looking Lotus sports cars. It is one of the most iconic images in any Bond film: pursued by Jaws' henchmen, Bond steers the Lotus off a dock, and into the water, where the car promptly turns into a submarine. 
But after production on the movie concluded, the vehicle, which was built by Florida-based Perry Oceanographic, was mostly forgotten. According to SuperYachts.com, the car was shipped first to a storage unit on Long Island, where it remained for ten years, until the storage account became delinquent, and a local couple acquired the car in a blind auction. For the next couple decades, the Lotus remained mostly out of the spotlight. 
And now it belongs to serial entrepreneur – and space flight pioneer – Elon Musk. After Jalopnik reported that Musk had purchased the car for $866K at an auction in London, Musk confirmed the details of the deal to several outlets. "I was disappointed to learn that it can't actually transform," Mr. Musk said in a statement obtained by CNN. "What I'm going to do is upgrade it with a Tesla electric powertrain and try to make it transform for real."
All of this makes a certain amount of sense. After all, Musk was reportedly the inspiration for Robert Downey Jr.'s portrayal of Tony Stark – a deep-pocketed billionaire with an affinity for scientific experimentation and some quirky pastimes. Rocket ships? Sure. A colony on Mars? Let's try it. Working submarine cars? Why not? 
In fact, before this whole underwater transformer car thing, Musk was soaking up the spotlight with his plans for a Hyperloop, a so-called "fifth mode of transportation" that would zip people from Los Angeles to San Francisco – a distance of almost 400 miles – in 30 minutes. 
"It would cost you much less than an air ticket – than any other mode of transport," Musk said in July. "I think we could actually make it self-powering if you put solar panels on it, you generate more power than you would consume in the system. There's a way to store the power so it would run 24/7 without using batteries. Yes, this is possible, absolutely."
---