Thinkers gather to act on world problems
Pop!Tech conference in Camden, Maine, aims to harness synergy to tackle issues.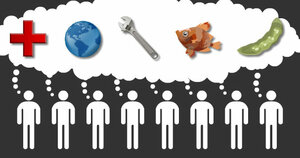 Jacob Turcottte
Pop!Tech, the annual gathering of thinkers and doers in Camden, Maine, that ended on Saturday, has been asking such questions as "What does it means to be a human being at the beginning of the 21st century?" says its curator and host, Andrew Zolli.
But more and more, the conference, now in its 11th year, isn't just posing big questions: It's trying to jump-start big solutions to big problems.
The "Pop!Tech Accelerator," just announced, aims to bring together innovators that meet at the conference to take on big challenges. Its first effort is called Project Masiluleke (it means "to reach out" or "rejuvenate oneself" in Zulu). The project combines the work of iTEACH, a program in South Africa that aims to educate poor people about HIV/AIDS and help them find and take advantage of medical treatment, with an interactive computer program developed by researchers at the University of Connecticut. The program, which helps patients understand and manage their own medical treatment, is part of CHIP (the Center for Health, Intervention, and Prevention) at the university.
Pop!Tech has long talked the talk on environmental issues, and in recent years it's begun to walk the walk, too. To compensate for the carbon emissions created by this year's conference (including energy needs on site and travel by its hundreds of participants), Pop!Tech bought carbon-offset credits equal to twice the carbon the meeting created. Thus it claims to be not just "carbon neutral," but "carbon negative."
---