A low-cost route to the Web
California start-up Meraki powers several thousand wireless networks across 70 countries, bringing the Internet to those who otherwise could never afford it.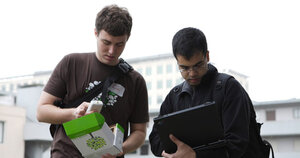 Courtesy of Michael O'Neal/Meraki
A sharp "Crack!" echoed across Musgrave, South Africa, last February, instantly shorting out eight years of work for Costas Criticos. Lightning fried a broadcast tower that had provided wireless Internet access to one of the city's working class neighborhoods.
Mr. Criticos had relied on that tower as the hub of a nonprofit network that catered to students and low-income families. High-speed Internet in South Africa is several times more expensive than in the United States, so Criticos had shared a connection with neighbors at a discounted rate.
With that tower destroyed, the community's Web connection had closed.
But not for long. A friend of Criticos's visiting from the Massachusetts Institute of Technology brought with him several new gadgets from Meraki, a Silicon Valley start-up that has powered thousands of simple, inexpensive wireless networks around the world.
Like most networks, the neighborhood's busted system worked off a hub-and-spoke model, where information beams out of one antenna to each computer. If that central link breaks, every connection goes down with it.
But Meraki plays by different rules. Its wireless networks string together several small radios that bounce information from one to another. Instead of just radiating in a straight line, data can zigzag from box to box. That way, if one link breaks, the rest automatically reconfigure and find a different path for that e-mail or Web page to travel.
"In really just a few hours, we had the whole community up and running," Criticos says. "Not to mention, we set up the whole thing without the help of technicians, and our costs have never been cheaper."
---