Hurdle for future cities: human habits
Technology will not solve all green problems, some say.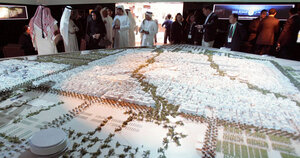 Karim Sahib/Getty Images
Among the United Arab Emirate's seemingly endless construction sites, developers outside of Abu Dhabi have broken ground on perhaps the most ambitious green-city project in the world. With government support, the Masdar Initiative will create a carbon-neutral city capable of housing 50,000 residents. Upon completion, the city will act as a living test site for the latest in sustainable urban innovations.
While Masdar has ignited curiosity beyond the nation's borders, it has elicited limited enthusiasm from a key audience: locals. For many Abu Dhabians, the concerns range from weak air conditioning to limited access to automobiles – car culture is deeply entrenched in the UAE.
Though designers hope the final product will dispel concerns, the project has done little to impress green city planners not connected with the venture. A utopia spawned by petro-dollars is not a practical solution to real-world emissions problems, they say. Current cities must address political and social concerns that are irrelevant to the UAE experiment.
Masdar designers and scientists argue that the project's value as an urban model works on several different levels. The Masdar Initiative invites other cities to take lessons from its smaller innovations, like real-time energy calculators that allow consumers to see exactly how much it will cost to lower the thermostat; and its larger applications, like a city layout that takes advantage of building shadows to cool city streets.
"The city is bringing more than just the whole city concept," says Khaled Awad, director of public development at the Masdar Initiative. "It's trying to develop solutions that could be replicated partially."
What science can't cure
Despite the city's technological offerings, a number of experts say they mean little in the face of the societal challenges preexisting cities will face.
---