Squeezing the most out of a gallon
As gas prices rise, clever drivers adopt new rules of the road.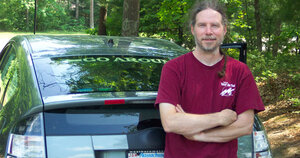 Mark Clayton
With gas prices soaring above $4 a gallon, grousing at the fill-up station is rising fast, too. But instead of complaining, America's leading "hypermiler" advises simply "teaching your right foot" to behave.
A former nuclear engineer, Wayne Gerdes is the nation's foremost proponent of a radical shift in driving behavior away from the gun-it-and-go style to an approach he calls "hypermiling" aimed at saving fuel.
Once a voice in the wilderness, this hypermiling evangelist has recently found a receptive and apparently growing flock. To demonstrate his techniques, Mr. Gerdes recently drove 800 miles from Chicago to New York in a borrowed Toyota Prius hybrid burning just 8.9 gallons – or 71 miles per gallon, far better than the car's fuel-rating.
Still, it's not a system just for long trips, nor is owning a hybrid required, he says. Even in his eight-year-old Honda Accord, Mr. Gerdes can squeeze out 59 miles to the gallon, double its fuel-economy rating.
Doing so, however, involves deploying many subtle, as well as common-sense, changes to driving habits. They range from timing traffic lights and gliding on through rather than stopping to filling tires to the maximum level listed on the tire instead of what's inside the vehicle's door. On subtler points, Gerdes is equally adamant: park on the highest points of mall parking lots to use gravity more – nose out to avoid backing up.
---