Wanted: inner-city supermarkets
A fresh idea brings healthy food to low-income neighborhoods.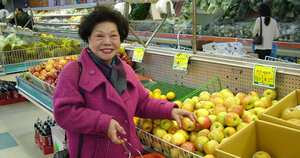 Courtesy of David Adler/The Food Trust
Grocer Jeff Brown put a lot of sweat into his ShopRite supermarket in inner-city Philadelphia: He built a pork-free meat room for Muslim customers, stocked the aisles with the Jamaican and African cuisine that neighbors requested, and taught job skills to the hires new to the workforce.
Despite skyrocketing commodity prices, Mr. Brown says the store – a venture that he never could have opened without a loan from Pennsylvania's Fresh Food Financing Initiative – is making money.
Brown's ShopRite is more than just a driver of urban development. It's part of a major public-health program aimed at squashing obesity and related concerns such as heart disease and diabetes.
"There aren't any other supermarkets within two to three miles," he says. Without his store, the patrons "would probably eat at McDonald's or shop at a drug store or the dollar store for food – none healthy or fresh."
Pennsylvania's Fresh Food Financing Initiative (FFFI) is believed to be the nation's only statewide public-private funding initiative dedicated to opening grocery stores in underserved areas. In three years, the $120 million fund has provided "gap financing" – money beyond what a grocer normally could receive in grants and loans – to open or update 52 supermarkets statewide, creating some 4,000 jobs in the process.
From its inception, the plan has been admired by policy experts for its merging of economic and public-health innovations. But as gasoline and food prices continue to rise, the FFFI is attracting increased attention.
---