Study abroad through Second Life
Virtual college campuses host international student exchanges.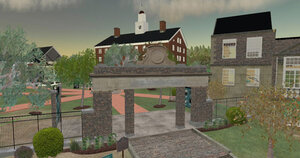 Ohio University
When a group at Ohio University in Athens created a video tour of the school's virtual Second Life campus, Christopher Keesey expected that it would be, by and large, for the OU community. Yet while browsing YouTube, he found a copy of that same video tour translated into what he thinks was a Nordic language, possibly Danish.
"We didn't know the person. The person, as far as we know, wasn't even here, they were in Europe," recounts Mr. Keesey, project manager of Ohio University Without Boundaries. Now the OU virtual campus receives visitors from around the world who regularly interact with student avatars on the virtual campus commons.
Around the world, universities, and even the US Department of State, are turning to online virtual worlds to create cultural exchanges. In these immersive, 3-D environments, users from around the globe can collaborate in ways that were previously impossible.
---