Designs for a better world emerge from M.I.T. summit
Diverse teams brainstorm and build simple solutions to help developing nations.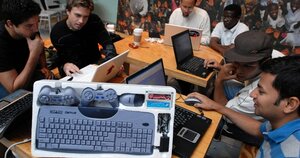 Mary Knox Merrill – Staff
For three weeks this summer, masons and mechanics, farmers and welders, scientists and a pastor threw themselves into creating low-tech solutions to big problems that persist across the globe.
Converging here at the Massachusetts Institute of Technology, these 61 inventors from 20 countries divided into multilingual teams, each drafting and tinkering with their own device that will hopefully make life for the world's poor a little easier.
There was no grand prize to be won at this second-annual International Development Design Summit (IDDS), but members sometimes skipped meals and stayed up late – sawing, hammering, and welding – to perfect and build their designs.
Soon, their prototypes will be rebuilt and refined in the developing world by artisans using locally available materials and tested ultimately by consumers who live on less than a dollar a day.
While the 10 teams constructed a wide variety of devices – from an inexpensive incubator for low-birth-weight babies to a rope system that could help craftswomen in the Himalayas get their products to market – here are three of the most interesting inventions to emerge from this year's IDDS:
The charcoal crusher
Each summer, Americans fire up their charcoal grill for an outdoor barbecue.
In many developing countries, charcoal is an everyday fuel and used with indoor kitchen stoves. But the smoke-flavored food carries a health risk.
Charcoal is not clean-burning, and one IDDS team says the resultant indoor pollution has been linked to deaths on the same scale as malaria and tuberculosis globally.
One way to make charcoal produce fewer emissions is to pulverize the charred agricultural waste – like corncobs or crushed sugar cane – and pack it into denser briquettes.
---