Holograms, live onstage
Once limited to movies, they head into the real world.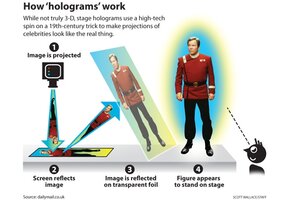 The image is iconic: Princess Leia, clad all in white, pleading for Obi-Wan Kenobi's help via hologram.
Since it first appeared in 1977, this scene from "Star Wars" has epitomized the idea of holographic teleconferencing.
Thirty years later, such 3-D projections have mostly remained as science fiction.
While they have been used to great effect in movies and TV shows, 3-D holograms have been too costly and too technologically complex for practical use. But that may be changing.
Projection technology has advanced to the point where it is now feasible, although still expensive, to use so-called "stage holograms" for telecommunication.
"The technology for doing this exists," says Paul Debevec, associate director of Graphics Research at the University of Southern California's Institute for Creative Technologies in Marina del Rey, Calif. "In the next five to 10 years, I expect some real breakthroughs."
---