China asserts itself in GPS turf war
It plans to use the same signal frequency for its version of GPS that Europe had carved out. The overlap could block Europe from using its satellites for security reasons.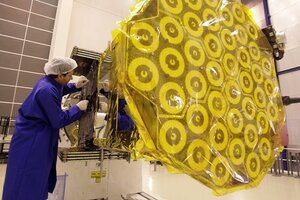 Maartje Blijdenstein/AFP/Newscom/File
At the European Union's embassy in Beijing, a recently built extension bears the name "Galileo." It celebrates one of Europe's most high-profile and symbolic partnerships with China, but it might soon have to be rechristened.
China's membership of "Galileo," the European-led version of America's Global Positioning System (GPS), has soured to the point where the two sides are locked in a dispute over radio frequencies, as China races ahead with its own network of satellites.
Cooperation has turned to confrontation.
Without an agreement, China would be able to frustrate European military forces' efforts to deny a future enemy crucial satnav capability. Some expert observers suggest that may even be Beijing's goal.
As the EU prepares to sign contracts this year with satellite builders and China plans the June launch of the first satellite in its own "Compass 2" constellation, "both are at stages of program development that make this an urgent question," says Glenn Gibbons, editor of "Inside GNSS" magazine.
GPS, Galileo, and Compass, along with the Russian "Glonass," are building the satellite infrastructure for an increasingly important technology used for purposes ranging from nuclear missile guidance, through mapping, to steering a mobile-phone user to the nearest Starbucks.
---