My ride? It's a power plant
Electric cars could sell battery power back to the grid in an emerging plan called V2G – 'vehicle to grid.'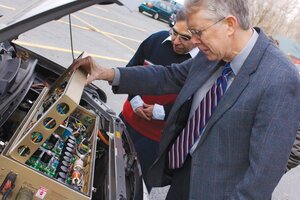 Courtesy of Jon Cox/University of Delaware
Dragging an inch-thick power cord from a curbside charging station to his all-electric-drive car, Willett Kempton plugs it into a socket just above the vehicle's front bumper and flashes the tiny smile of a man who thinks he knows something others do not.
Perhaps he does. The University of Delaware professor's test car isn't merely charging up – it's potentially sending power the other way, too.
A computer inside the car communicates with the giant Eastern PJM power grid. Through the connection, PJM can ask for extra juice from the car's battery to balance fluctuating demand on the grid. The car's dashboard computer checks the vehicle's battery level and – if there's enough charge to drive home – can sell the excess energy back to the power company at a profit.
While a handful of such vehicle-to-grid (V2G) research projects have emerged from California to Texas to Colorado, Dr. Kempton's project has driven the farthest.
For more than a decade, Kempton has researched, lobbied, and agitated for these "cash-back cars." His and other in-depth studies describe a future where electric-car owners plug in at malls, hardware stores, or home garages and earn $1,000 to $2,500 annually for the power they pump back into the system.
Such "regulating power" to help balance grid fluctuations is valuable – recently about $42 an hour for one megawatt's worth. One car can't do that much, of course. But 60 cars might – and still remain charged up enough to easily get where they need to go.
---