Smart-phone app lets you do good deeds in your spare time
The Extra­ordinaries' "microvolunteers" phone it in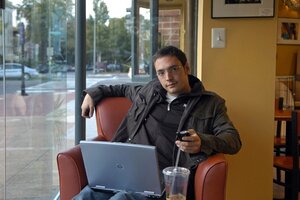 Stephanie Kuykendal/Chicago Tribune/MCT/NEWSCOM/File
For most people, volunteering means spending a few hours at a soup kitchen or tutoring a student over the weekend.
But modern smart phones such as the Apple iPhone now allow for meaningful volunteering during the in-between times.
Call it on-demand volunteerism.
That's the idea behind The Extra­ordinaries, a San Francisco-based group, whose mission is to get people to volunteer whenever it's convenient. It could be standing in line at the post office, waiting for a lunch date to arrive, or half time at a child's sports event. All the volunteer needs is The Extraordinaries' free iPhone  app and decent cellphone reception.
Jacob Colker, cofounder and CEO of The Extraordinaries, calls it microvolunteering – devoting idle moments to good deeds.
Using an iPhone, on-demand volunteers can tap into ongoing nonprofit work that would otherwise take months or years for a small team to accomplish. But the iPhone application taps into millions of potential helpers, each with a few free minutes to spare. The fledgling program, which is in public beta testing, currently asks users to help "tag" historical photos or videos for museums to make them searchable by computer.
Though some 61.8 million Americans aged 16 and up volunteered at least once through or for an organization from September 2007 to September 2008, that means about 74 percent of that population did not. Mr. Colker says the new iPhone application is for them.
"I think there are huge swaths of the population that want to give back," Colker says. "That is something that we as a society yearn for. We want to do a lot more than swipe a credit card or write a check."
The idea of using a smart phone to volunteer emerged when Ben Rigby, cofounder and chief technology officer for The Extraordinaries, was writing a chapter on mobile phones and engagement for his book "Mobilizing Generation 2.0." As he wrote, he began to think about developing an iPhone app that would match people with nearby nonprofits so they could volunteer on demand.
---