How to keep track of climate change
Complex data, distilled and delivered in real time, could shed light on a global issue.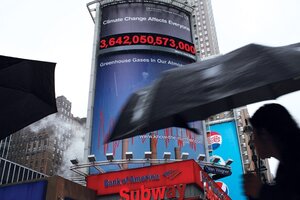 Yanina Manolova/AP
It's a vexing problem – how to keep the public and policymakers informed and engaged on what many scientists say is the primary long-term challenge to humanity's well-being: global warming.
You could invite folks to burrow into the most recent 998-page climate-change opus by 620 leading scientists and editors. Or, for lighter reading, peruse the 34-page "frequently asked questions" primer on that same 2007 Intergovernmental Panel on Climate Change report.
But to capture public attention while avoiding the need for a PhD on sea-ice thickness, glacier melt rates, and carbon dioxide concentrations, you could just put that data into a single index that tracks the pulse of climate change as it happens.
So says Daniel Abbasi, who has proposed a Global Climate Change Index, not unlike the Dow Jones Industrial Average, which tracks stock prices. The index would try to distill the latest ecological figures into something simple enough for the average reader to understand and concrete enough to hold policymakers accountable for lowering greenhouse-gas levels in the atmosphere.
"We've got these big reports that appear every few years, but few people read them," says Mr. Abbasi, a former senior adviser at the Environmental Protection Agency (EPA) in an interview. "Why not reduce this thing into an easier-to-understand set of indicators that can be weighted and aggregated – a distillation that reveals actual impacts we're seeing in the field."
Now director of regulatory and public policy research for MissionPoint Capital Partners, a Norwalk, Conn., investment firm, Abbasi's proposal is stirring scientific debate even as other projects with similar goals are beginning to emerge in the public square.
---