Stanford's Institute of Design: School for world changers
Stanford University and the University of California, Berkeley, create 'empathy driven' curricula, which push design that improves lives.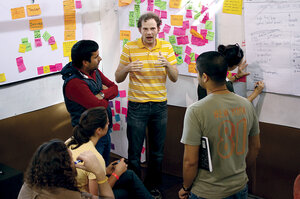 Courtesy of the d.school
This school doesn't really have classrooms. In fact, Stanford University's Institute of Design in California isn't really a "school," jokes Prof. Jim Patell. Instead of classrooms, there are clusters of discussion and activity. Instead of blackboards, its walls come covered in massive sheets of white paper, design sketches, and countless Post-it notes. Instead of relying on final exams alone, the program measures success by how its students improve lives in the developing world.
Stanford's Institute of Design, more commonly referred to as d.school, specializes in pooling students from all different areas of study. Here, public-policy wonks mix with computer scientists, engineers, and medical students. Despite its quirks, or rather because of them, students compete for seats in d.school classes – compete for a chance to step outside academia and start changing the real world.
"There's a lot of brilliant students at Stanford," says Sunny Jeon, a PhD candidate at the university in Stanford. "So, when you put them all together in a class that pushes them to innovate and develop practical solutions to the world's problems, you get some really interesting ideas and feel like your work can make a difference in somebody's life."
Mr. Jeon recently returned from Kenya, where he worked on his d.school project before the new semester begins this month.
He's developing a crowdsourcing system with two classmates – policy-focused Katharine Hoffman and computer scientist Anuraag Chigurupati – that will enable people in Kibera to locate clean sources of water using mobile phones.
---