How Walgreens went off the grid
Walgreens, Florida bank erect buildings that will make their own power.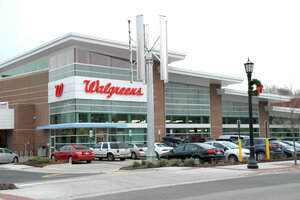 Walgreens
Pharmacy chain Walgreens opened what it calls America's first "zero energy" store. Installations throughout the building should generate enough energy to run it without a single electron from the power grid.
The new shop in Evanston, Ill., packs in more than 800 solar panels, two wind turbines, and geothermal technology. Altogether, they will generate an estimated 220,000 kilowatt-hours of electricity per year, 28 percent more than the store will need.
"Somebody has to do this," says Jamie Meyers, who oversees sustainability at Walgreens's 8,000 stores. The company has already installed solar panels on 150 of its locations, switched to efficient lighting, and devised sophisticated energy monitors. "Now we want to take all of these ideas and put them together."
While Americans have attempted self-sufficient buildings for more than a decade, most projects have come from nonprofits and individuals – people willing to spend the extra money to make a statement. Through their experimentation, green technology has matured to a point at which corporate America now seems ready to join in.
---