How can we be sure we'll remember our digital past?
As technology evolves, data from outmoded machines is put at risk; panel addresses pathways and costs.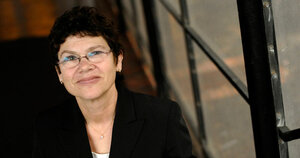 Mark Thomson
When Donald Sweeney heard that his wife's computer had crashed, he was embarrassed.
Countless couples have lost all their files this way. But Mr. Sweeney felt particularly sheepish because he is the project manager for the Large Synoptic Survey Telescope (LSST), which may one day amass the largest database of night-sky photographs ever collected.
If all goes according to plan, the LSST's 6-foot-3-inch digital camera will power up in 2015 and start snapping 200,000 pictures of space (or 1.3 million gigabytes of data) every year.
"Here I am, protecting one of the world's biggest databases, and I let my wife lose all of her computer files because the disk crashed," he jokes.
So what if the LSST collection finds a similar fate? "We just can't let that happen," Sweeney says, his tone turning serious. "We're doing a lot of things to make sure that it never does."
Losing personal files can be upsetting. But failing to protect academic, government, or corporate data could erase irreplaceable pieces of history, says Francine Berman. She co-chairs a newly formed panel of experts tasked to ask how the world can protect its digital past, and answer a more nagging question: Who's going to pay for it?
Unfortunately, she says, the same culture that makes creating our digital lives so easy, makes protecting that data very difficult. Consumers expect faster computers, smarter software, and new gadgets every few years.
Consequently, "it's hard to read the information on floppy disks these days," says Dr. Berman, who is director of the San Diego Supercomputer Center. "Very few people still have the drives. It's hard to play LPs. They were everywhere only a decade ago. But now many people can't read them."
---