A mission to Mars, in Utah
Research from desert simulations aimed at easing life on an eventual Red Planet trip.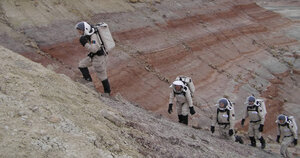 Courtesy of Perry Edmundson/Expedition Delta
Phillip Cunio celebrated his wife's birthday from Mars. He held a card up to his habitat webcam so she could see it online, and fellow crew members baked a cake.
Granted, this "Mars" was the Utah desert, but spending two weeks on a simulated mission to the Red Planet gave him a taste of what it would be like to fulfill his dream. And the freeze-dried flavor didn't dampen his enthusiasm.
Mr. Cunio moved into the Mars Desert Research Station (MDRS), just outside Hanksville, Utah, to test equipment being developed by the Space Logistics Project and other partners at the Massachusetts Institute of Technology in Cambridge, Mass. (http://spacelogistics.mit.edu).
He was part of an eight-person international crew including engineers, a biologist, and a GPS expert all doing their own research. For two weeks, they traded earthly conveniences for scientific progress. They imposed a delay of roughly 20 minutes on e-mails. When they ventured outside their cylindrical two-level habitat, they had to wait in an airlock and don bulky simulated spacesuits – complete with boots, ski gloves, and bulbous helmets.
---