YouTube offspring create niche sites
New user-driven video sites add sophistication as they target select audiences.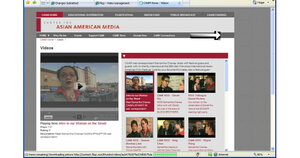 Courtesy of Fliqz
User-generated video, or UGV, is a snappy term coined in the digisphere to denote home-grown footage of everything from little Joey's first birthday to clandestine news footage of Tibetan monks in rebellion.
The river of UGV flowing across cyberspace has nearly doubled in size over the past year, topping 4 billion last month, according to Nielsen Online. More than 95 percent of this UGV online traffic runs through the behemoth website, YouTube. But, say media watchers and digital world doyens, as bandwidth has grown and become more widely available and costs to offer interactive video on a fledgling website have drastically dropped (from thousands of dollars to below $100 for a simple interface), the Internet is poised for a new explosion of user-generated video. In what some have begun to call "Web video 2.0," this phase of online UGV will see the appearance of more niche websites with carefully targeted audiences and more sophisticated user tools.
"We are at the cusp of something interesting," says Benjamin Wayne, CEO of Fliqz, a video technology provider. "In the first phase of Web video, sites pushed video out to users, but now we're going to see interactive video becoming the norm on both big and small websites."
---