To fight future cyberbattles, Air Force recruiting part-time geeks
The Air National Guard is drawing from Microsoft, Cisco, and other high-tech firms.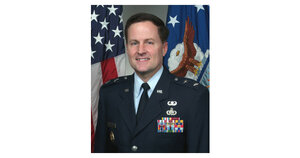 Courtesy of the US Air Force
The TV commercial opens with an aerial view of the Pentagon. "This building will be attacked 3 million times today," says a concerned voice over a gloomy guitar riff. "Who's going to protect it?"
The ad – part of the Air Force's new "Above All" publicity campaign – is partly a not-so-subtle message to Congress: Cyberwarfare is real and the Air Force is the military branch to defend against it. It is also a recruiting tool to overcome one of the biggest challenges facing the year-old Air Force Cyber Command (AFCYBER): finding cyberwarriors to fight its 21st-century battles.
By recruiting in new places and relying heavily on the Air National Guard to find part-time, rather than full-time, employees, the Air Force is meeting with some success by seeking recruits from some of America's most iconic tech companies.
For example, the 262nd Information Warfare Aggressor Squadron, an Air National Guard unit in Washington State, has tapped into guardsmen employed at Microsoft, Adobe, and Cisco, wrote Air Force Secretary Michael Wynne in a recent article. Based at Lackland Air Force Base in central Texas, the 688th Information Operation Wing recruits from tech-heavy Austin. The Air National Guard is also drawing from Sprint and Boeing for the Kansas-based 177th Information Aggressor Squadron, he added.
---