The battle of the browsers
Firefox 3 dukes it out with Safari and Internet Explorer to control the way we surf the Web.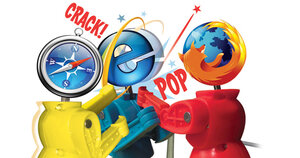 Scott Wallace – Staff
Some call it "Browser War 2.0." Software companies are vying to lasso you into using their product for leaping between websites. And because of the strange economics of the online world, the price is unbeatable: All the browsers are free.
At stake for Microsoft and Apple are prestige and name recognition, or, for Mozilla, the quest to promote an "open source" world of software. Commerce isn't too far behind, of course. Even though browsers don't directly create revenue, they are indirect pathways to it.
Beyond that, future browsers may become even more important as they lead users to more websites that perform functions previously done by programs installed on their computers, from word processing to spreadsheets, photo editing to calendars.
Browsers are having an unaccustomed moment in the limelight this week as Mozilla unveiled Firefox 3, the latest version of its ever-more-popular browser. On Tuesday, it attempted to set a Guinness World Record for software downloads in one day, with a goal of 5 million copies of Firefox 3 downloaded by users around the world.
The new challenger
When this decade began, browsers were a sleepy backwater of software development. Microsoft's Internet Explorer (IE) was used on more than 95 percent of Windows PCs, and in 2003, the tiny group of Apple users began to browse the Web with Safari.
---