Military inventions hit the civilian market
Although built for battle, these inventions are perfect in peacetime.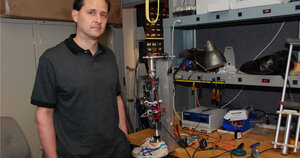 Tom A. Peter
Although Hugh Herr was a respected professor at Harvard Medical School, he says finding someone to bankroll a new prosthetic knee project was tough before the Iraq war. He could get funding from the prosthetic industry, but government sources showed little interest.
But a year and a half after the invasion of Iraq, the tides turned. The United States Department of Veterans Affairs provided the Massachusetts Institute of Technology and several other institutions with $7.2 million to study artificial arms and legs for amputees. The money, along with key technological innovations, has helped Dr. Herr, now an associate professor at the MIT Media Lab, create a powered ankle and knee, the next generation of prosthetics.
"If you plot prosthetic limb technology versus time, you see a major spike in innovation after every war – except Vietnam … and this current conflict is similar in that regard," says Herr. And since his latest research has implications for other fields, such as robotics, he hopes interest and funding will continue after the Iraq war ends.
---