Marriage counseling moves online
Click for marriage advice – but is it a valid option?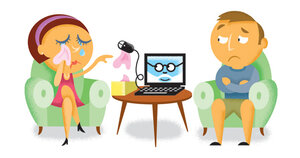 Scott Wallace – Staff
When troubles cloud a marriage, couples typically have several options for resolving their differences. Some work out problems themselves. Others turn to family and friends for advice. Still others head for a marriage counselor's office.
Now, in a high-tech world, they have another choice: online marital counseling. A computerized program called eHarmony Marriage seeks to help couples communicate better, rekindle romance, and resolve conflicts more compassionately, says Les Parrott, who created the program (marriage.eharmony.com) with his wife, Leslie, a marriage and family therapist.
The site is an offshoot of the Internet matchmaking service, eHarmony.com.
"It's perfect for people not quite at the place to get counseling, who want to do something practical to improve their relationship," says Dr. Parrott, a psychology professor at Seattle Pacific University.
That "something practical" begins with a 40-minute online questionnaire covering issues ranging from finances to housework, trust, family relationships, and spirituality. Each partner answers separately. Their responses generate a computer report outlining their strengths and weaknesses as a couple.
"It will reveal where you guys are really strong and where you will find the most benefit if you invest in this area," Parrott says. For instance, "You do really well in communication until you get to this area – in-laws."
---