Planes, trains, and automobiles – the Internet hits the road
Chrysler's big Wi-Fi announcement means the Web is even more 'world wide,' but is that a good thing?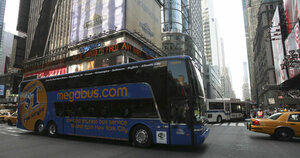 Mark Lennihan/AP
Back in prehistoric times (as my children like to call it), say 1992, when the Internet was basically unknown to most people outside academia and government, I got my first Internet connection from Canada's only commercial Internet service provider (ISP) at the time, which just happened to be located in an industrial park in back of where I worked in Dartmouth, Nova Scotia.
In those early days, I mostly used a tool called "Gopher" to navigate my way around the Internet – and the world. I would spend six hours a day sometimes engaged in exciting tasks like reading graduate papers in physics from South African universities – not because I knew anything about physics, but because it was just so darn cool to think I was looking at something in South Africa. It felt almost exotic.
But if I was excited about traveling the world virtually, I was pretty much planted in one spot physically – in front of my computer at home. My, how things have changed in 16 years.
We've grown used to taking the Internet around with us for several years now, thanks to mobile phones, wireless hotspots, home networks, "wireless" cities, etc. But several recent developments mean that we're going to be able to access the Internet in even more places – planes, trains, and automobiles – than before. We're truly reaching the point that when we talk about the "World Wide Web," we really mean it.
---