Pittsburgh is robot country
Growing out of its industry roots, Pittsburgh is now the Silicon Valley of droid design.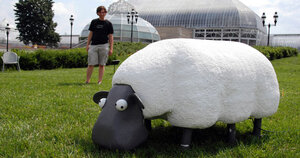 Tom A. Peter
Phipps Conservatory and Botanical Gardens here has done away with its lawn mower and hired a robotic sheep to trim the lawn. Just down the street, visitors at the Carnegie Library can flip through a book while sitting in the belly of a colorful, robotic tent that gently swirls around them. Meanwhile, in a nearby park, Jennifer Gooch works with a friend on the latest addition to the city's series of robotic installations, putting the final touches on a tiny island of flags that raise and lower as viewers walk around the piece.
Built by artists with little to no engineering experience, these projects are part of Robot 250, a celebration that coincides with Pittsburgh's 250th birthday and aims to democratize robotics by bringing them to the general public.
More important, it's a month-long demonstration of how the city is becoming a Silicon Valley for robotics.
The combination of Carnegie Mellon University's pioneering robotics program and leftovers from the city's industrial past have created something of a perfect storm that is fostering the development of the next generation of robotics.
"Pittsburgh offers a special chance to look at robotics," says Carl DiSalvo, associate professor at Georgia Tech's digital media program and one of the cocreators of Robot 250. "Because of [CMU's] robotics institute being here … and there's also an interesting history of the relationship between robotics and labor and the city that makes Pittsburgh a unique place to look at robotics."
---