Efforts to rein in online fight videos
Pressure builds on social-networking websites to do more to block such content. Legislation is afoot, too.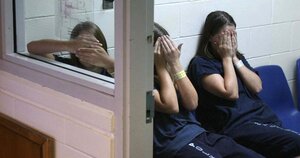 George Skene/Orlando Sentinel/AP/file
The images played out in shocking detail this spring: a group of Florida teens beating a girl and videotaping it to allegedly post online at YouTube and MySpace. Some of them face felony charges and the possibility of life in prison.
The hundreds of thousands of fight videos online, running the gamut from fake fights to bullying to gang warfare, have parents, educators, and lawmakers around the world grasping for solutions. They want popular social-networking websites to do more to block or remove such content. Some places in the US and abroad are even criminalizing "cyberbullying" and the recording and posting of violent acts.
The ensuing debates raise age-old issues of free speech versus safety. Those on the safety side say the matter is urgent because the videos seem to inspire copycat acts. They also raise concerns that the broadcasting of such fights intensifies the humiliating effects of bullying.
"A lot of kids are looking for attention; they're looking for a way to measure their own popularity, and they measure it now on page views," says Parry Aftab, executive director of WiredSafety, an online safety group in Fort Lee, N.J. "The faster we can get any of the networks to take down [such content], the less likely it is that kids are going to keep doing it, because they do it for the fame factor."
---