Auteur? Shop your movie to the 'soc-net' set
Indie filmmakers plug into Web's social networking sites to find finance, distribution, and feedback.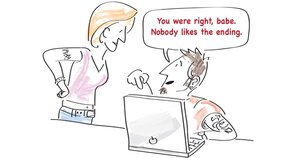 John Kehe – Staff
The pitch: a movie about a Jewish dwarf who survives the Nazi Holocaust by hiding in garbage cans. When director Minna Zielonka-Packer posted the idea on indiegogo.com, a social-networking site that connects independent filmmakers with cinema enthusiasts, the community helped raise $10,000 for the project.
While that figure would barely cover the cost of the Batmobile tires in "The Dark Knight," it was a windfall for an indie filmmaker. Financing in hand, Ms. Zielonka-Packer flew to Eastern Europe, where she had previously made a documentary about children of Holocaust survivors returning to Poland, and filmed several scenes for her new film "The Lilliput," which is based on a true story.
"I would have to credit indiegogo for being there at a time when we needed them to forklift us," says the New Yorker, who was also awarded a Fulbright Scholar grant.
Realistically, Internet fundraising will only subsidize a fraction of the $1.2 million feature – the early footage is designed to woo big financiers and distributors. But filmmakers such as Zielonka-Packer are discovering something musicians have known for years: Social networks can be dynamic tools for building a core audience. Even as established sites such as MySpace make fresh forays into the film industry, a host of social networks such as From Here to
Awesome, Indie Maverick, Indie Share, and Indiegogo have sprung up to help finance, market, and distribute indie films. For now, such sites may only have an impact at the margins. But their emergence underscores the degree to which independent filmmakers have to become wily entrepreneurs.
---