Video games start to shape classroom curriculum
While more educators adopt games as a learning tool, one public school designs a brand new teaching philosophy.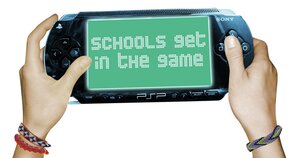 Scott Wallace/Staff
Attention parents: Don't be surprised this school year if you tell your kids to stop playing video games and they respond, "But it's homework."
In classrooms across the country, electronic games have increasingly become tools for teaching problem solving and critical thinking.
For example, Brock Dubbels, a teacher at the Seward Montessori School in Minneapolis, has eighth-graders reading Homer while playing Sega's "Sonic the Hedgehog" to better understand Odysseus's quest.
Jeremiah McCall, a history teacher at the Cincinnati Country Day School, turned to Creative Assembly's "Rome: Total War," a real-time strategy game that lets players assume the roles of ancient generals. Mr. McCall's students compare battle depictions in the game with historical evidence, then design their own simulations. "It's amazing how much you have to practice the skills of a historian – fact gathering and interpretation – to design a game," he says.
Once shunned as a brain-rotting activity, video games are now winning over many middle- and high-school teachers as a way to inspire kids to learn.
"If you, as a teacher, are satisfied with engaging only 15 percent of your students, then you're failing the majority," says Mr. Dubbels. "The big idea is to identify what students are already invested in, and that's video games."
---