Thanks to DTV, my television has 'fallen off a cliff'
Column: Don't assume the digital TV transition will improve reception.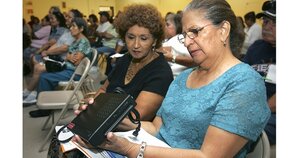 Bob Owens/San Antonio Express-News/Newscom
As I've mentioned several times in the past, I live in a part of rural Virginia undiscovered by cable TV companies. I won't use a satellite dish for a number of reasons – for one, they look like barnacles on the side of a house. So I've depended on broadcast TV signals for the past year.
I don't watch much television, so it has not been so bad. The picture is a little fuzzy, but not so covered in static that I can't enjoy a movie or political debate.
But analog TV signals are going away on Feb, 17. On that day, federal law demands that all over-the-air signals switch to digital (DTV). Currently, many stations broadcast in both digital and analog formats, giving people several months to prepare.
If you have cable or satellite TV, this is not a problem for you. That's most people in the United States – about 60 million homes, according to a recent report. But in some areas, as many as one in five homes only receive broadcast signals. For example, the El Paso Times last month quoted a Nielsen Media Research report that found 22 percent of homes in that area of Texas are not ready for the DTV switch.
But the solution is easy, according to the Federal Communications Commission (FCC). You can either buy a new digital TV (in this economy?) or a set-top converter box that will transform digital signals into something that your old analog TV will recognize. The government offers families two $40 coupons to help purchase these converters.
I had paid no attention to this until my neighbor got a set-top converter. Suddenly, his fuzzy signals were transformed into something amazing: clear, crisp pictures like you get when you have cable. He even got 20 channels, including new ones he had never seen before.
---