Ethan Zuckerman on how to engineer serendipity online
A discussion with the Harvard Internet scholar on how to stumble upon the Web's gems.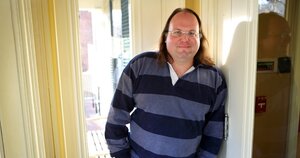 Melanie Stetson Freeman/Staff
In a wired world, finding information about events in a distant part of the world – the score of a soccer game, the aftermath of a military coup, or a nascent hip-hop movement in a conservative country – is straightforward.
Even if news sites overlooked a certain event, chances are that a blogger has not.
"But how do you find stuff you don't know you are looking for?" asks Ethan Zuckerman.
This koanlike question comes from his work as a fellow at Harvard University's Berkman Center for Internet and Society. Mr. Zuckerman spends a lot of time pondering the intricacies of the Internet and how to realign its many moving parts to make the Web more useful.
He helped start the Web-hosting service Tripod and later founded Geekcorps, a nonprofit that aims to help emerging nations get online and join the global conversation.
While wearing these many hats, Zuckerman has seen again and again that people love what the Internet can provide them, but they have no idea how much they are missing.
"People generally pay attention to what they already know about and what they care about," he says.
Serendipity can strike – users can occasionally stumble on a marvelous new site – but that rare find shouldn't be left to chance, he says. It should be engineered into the system.
For example, even a film buff may be unaware of Nigeria's movie industry. But Nollywood, as it's called by fans, is the third-largest movie industry in the world after Hollywood and India's Bollywood.
---